The Moo Incarnate
Last Updated: January 2, 2004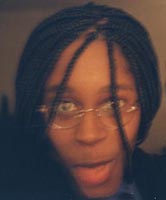 "There's only one thing that I know how to do well and I've often been told that you only can do what you know how to do well and that's be you. Be what you're like. Be like yourself. And so I'm having a wonderful time but I'd rather be whistling in the dark."
-They Might Be Giants
Well, if you're here, I suppose you'd like to know a bit about me, the Moo Incarnate. The best thing to do after you read this page is visit my LiveJournal! Bookmark it and visit often if you're at all interested in my weird life.
So.... would you like to hear me talk?
Hello, this is Kittie speaking with my voice. (.wav, 48K)
"Peter Piper picked a peck...." (161K) (They don't call me "Rocketmouth" for nuthin'.)
My Morphin Call! (heehee) (48K)
Or perhaps you'd like to visit my Photo Album.
Vital Stats
Name: Kittie J. Verdena (No, that's not my real name....)
Birthdate: August 16, 1976
Birthplace: Washington, D.C.
Heritage: African on my Dad's side, West Indian on my Mom's. (Jamaica and St. Lucia)
Occupation: Senior Graphic Designer
Residence: Silver Spring, Maryland
Height: 5'5"
Weight: 100 lbs. as of October 2003 (I have a high metabolism, okay?!)
Eyes: Brown
Hair: Dark brown
Fave Animal: Frogs!!! And cows. :)
Fave Domestic Animal: Cats.

Pet's Name: Amber, a very affectionate grey and white cat. (see picture to the left.)
Fave TV Shows: The Tick; Space Ghost Coast To Coast; The Simpsons; dueSOUTH, Trading Spaces, and The Monkees.
Fave Movies: The Addams Family, Addams Family Values, Clue, The First Wives Club, The Last Unicorn, The Wiz
Fave Musical Artists: Fiona Apple, The Beatles, Nat King Cole, The Cure, NSync, The Police, Sting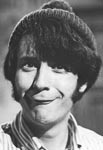 Fave Monkee: Michael Nesmith (See that picture to the right? That's him.)
Fave NSync Member: Chris Kirkpatrick!!! (He's in blue over there on the left below Amber)
Fave Poem: Loveliest of Tress, by A.E. Housman
Computer: 1 Ghz Power Macintosh G4, 768 MB RAM. His name is JayCee, after my second favorite NSync member. (My storage drive was already named Topher after Chris. Hee.)
My Life: Is very confusing! Check out this poster I made about it.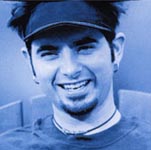 Bad Habits: Finger-chewing, nail-biting.
Pet Peeves: Arrogance, bossiness, being condescended to, racism, sexism, homophobia, war, poverty, repetitiveness. ("It's 9 am in the morning." No, REALLY?!? I thought it was 9 am in the evening!).
Religion: Christian, no specific denomination.
Belief in Extraterrestrials: Nothing concrete, but anything's possible. If there's life here, who's to say there can't be life elsewhere? It's arrogant, IMO, of earthlings to insist it's impossible for other life to exist. (See pet peeves.)
Other Websites
The Boyband Emporium
Power Ranger Mania
"The night is young and we have umbrellas in our drinks!"
(The Tick)