The Fanfic Shoppe
Last Updated: October 13, 2008
Not-so Standard Disclaimer: The characters and blah blah blah owned by Saban Entertainment blah blah blah under full extent of the law blah blah blah. Oh, and also, views reflected in these fics do not necessarily reflect the views of the webmasters. sigh.... Legalities.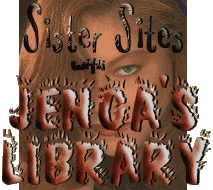 ---
The Fic Shoppe Has Been Adopted!
Guess what? The Fanfic Shoppe has been adopted! What does that mean? It means that all fics currently archived here will be migrated over to Destiny's Gateway Romance Fiction Archives, which is the site that has adopted us. I'm well aware that not all stories on this site are romance stories. That's okay, they'll take them anyway! Authors, you will have full control of your own fics and are free to take them down if you wish, but I do hope you'll allow them to stay archived for people to read. I'll be leaving this site but for a bit longer to allow them time to gather all of the fics, and then everything will be deleted and you'll find the stories over there instead. Actually, I think I'll leave the Shoppe up now. I have unlimited space and it seems a shame to just delete it. However, I'll definitely not be updating.
Thanks for your support all these years. It's been real!
---
Important Links
The Foreign Section. Featuring 21 Jump Street, Gargoyles, The Magnificent Seven, The Monkees, NKOTB, and more.
The Archives. You can get to (almost) every fic ever posted in the Shoppe and/or Huts at this page. Only those authors who have recently updated are posted on this main page. (Check the archive frequently if you don't visit here regularly. You're sure to find new stuff.) Organized by Author Last Name.
A-C D-O P-R S-Z